Job description

LET BUILDERS BUILD
"Our principles state that the builders are more preferable than philosophers. Daydreaming without an actual plan is meaningless and may only lead both sides to a "Lose-and-Lose" situation. Therefore, we always welcome individuals, who have the courage to take actions and show crystal-clear results. We do not need employees that stay "idle" without making realistic contributions to our company. Builders, who challenge themselves to grow are the best to hold critical positions." - Base Principles
Base Enterprise, a Vietnam technological start-up company specialized in the Software-as-a-Service field. Beside of providing consultant services, we have a mission to build an open and intelligent platform with the most excellent applications for all businesses across the Asia.
Base team now consists of many outstanding individuals graduated from Top Universities in the Oversea & Vietnam, who have many years of experience in the SAAS industry.
With 4 years of operation, we always strive to maximize the growth of our teams by recognizing every individual's strengths and building a career path for each members.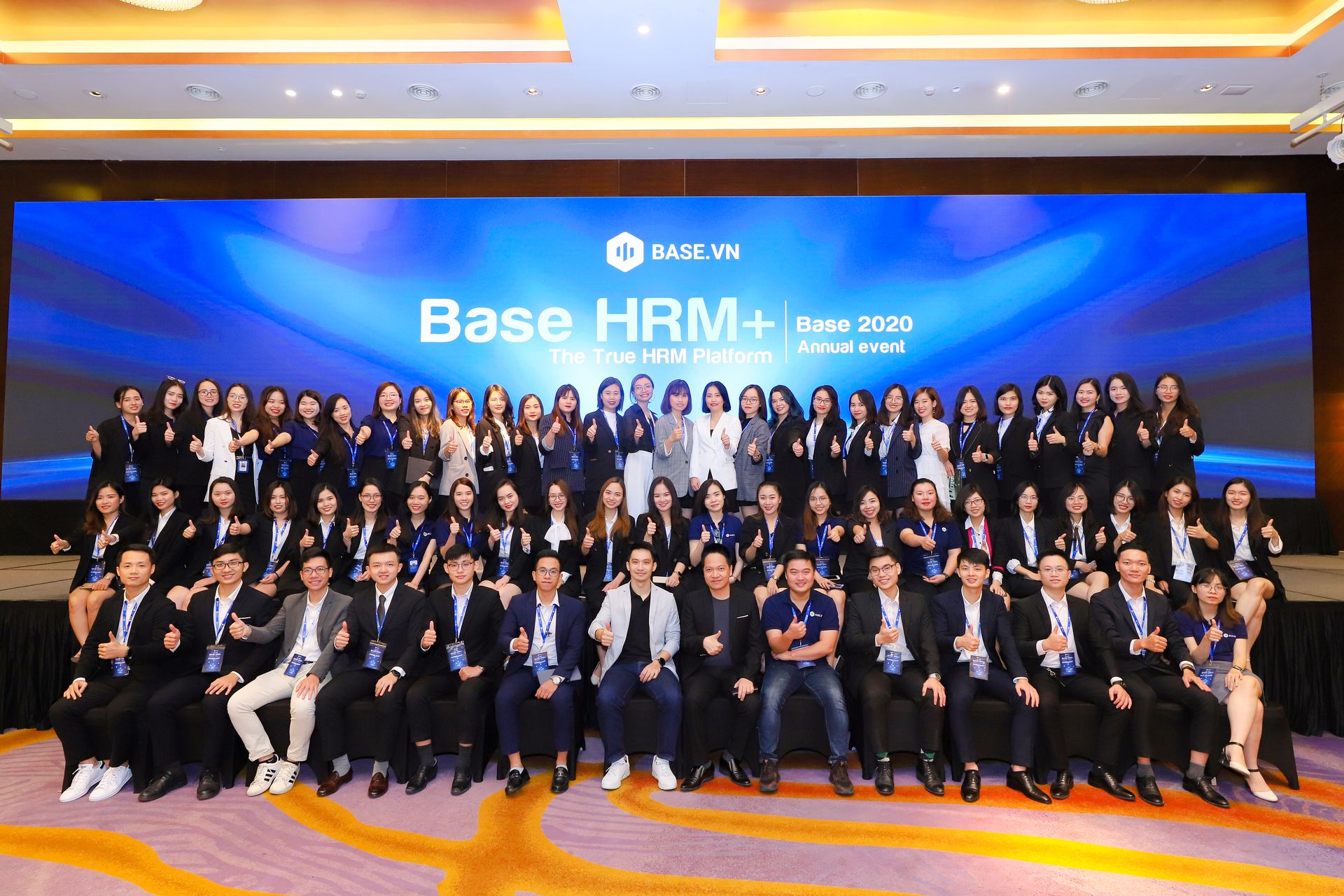 Responsibility:
Developing growth strategies and plans
Conduct research to identify new markets and customer needs
Arrange business meetings with prospective clients
Managing and retaining relationships with existing clients
Increasing client base
Having an in-depth knowledge of business products and value proposition
Promote the company's products/services addressing or predicting clients' objectives
Prepare sales contracts ensuring adherence to law-established rules and guidelines
Provide trustworthy feedback and after-sales support
Build long-term relationships with new and existing customers
Develop entry level staff into valuable salespeople
Researching business opportunities and viable income streams.
Qualification:
A Business Development Manager job description should also request the below soft skills from candidates:
Minimum 2-3 years of experience in B2B SaaS/Technology/Consultant
Preferred Candidates were born in 1990-1996
High-level communication skills
Proven working experience as a business development manager, sales executive or a relevant role
Proven ability to negotiate
Experience with design and implementation of business development strategy
Conflict resolution
The ability to self-motivate and motivate a team
Experience working to and exceeding targets
Experience in customer support is a plus
Market knowledge
Time management and planning skills
Benefit and perk:
Opportunity to receive ESOP (bonus shares) after 1 year of working, the company has pool for bonus already

Salary range: $700-$1000 (Total Income: $1500-$2500)

Performance reviewing per quarter with promotion and growth salary assessment.
Carefully trained about SAAS market and B2B sale techniques.
Working in leading SAAS start-up company in Vietnam with growth rate is about 200% per quarter.
Other Benefits: Holidays, day offs, awards, guarantee, etc.
Candidates are allowed to take the interview before Lunar New Year and start working after.
THE WORKING ENVIRONMENT AT BASE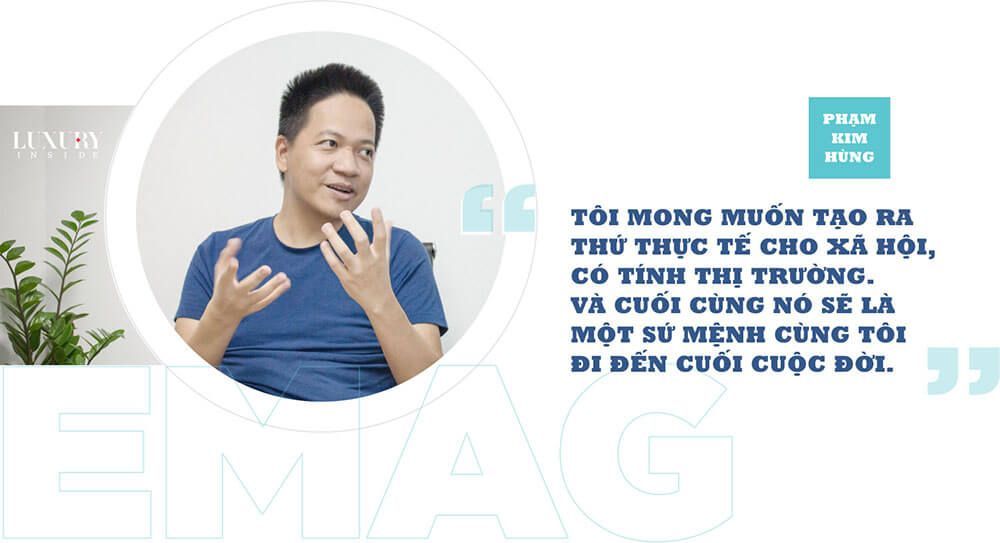 Làm B2B khó, rất khó: Khó không phải doanh nghiệp không muốn dùng mà sản phẩm phải đủ tốt!
Trong bài phỏng vấn với Cafebiz, mình có chia sẻ số tiền đầu tư của Base vòng này và vòng sắp tới sẽ được invest toàn diện cho việc phát triển sản phẩm. Trong mấy tháng gần đây, mình được giới thiệu để gặp gỡ khoảng 4,5 quỹ đầu tư hàng đầu khu vực, và 100% nhận được câu trả lời: "Chúng tôi muốn đồng hành cùng các bạn và chúng tôi biết có thể giúp các bạn grow trong 03 năm tới như thế nào. Cách tư duy product của các bạn rất khác biệt."
Mặc dù vậy, bản thân mình vẫn biết Base còn đang thiếu rất nhiều thứ. Và thứ thiếu nhất là con người - những người có thể cùng Base xây dựng các sản phẩm ngày một tốt hơn. Còn rất nhiều thứ về sản phẩm đáng ra có thể được improve nhanh hơn.
Ở Base, toàn bộ cuộc sống của chúng tôi là product. Sales & Marketing có mục tiêu quan trọng nhất là mang đến những giá trị của sản phẩm cho khách hàng
Ở Base, CEO là CTO và product visionary. I'm coding 12h a day and won't stop coding.
Ở Base, câu chuyện trong nội bộ mà mọi người luôn nói với nhau là sản phẩm, sản phẩm và sản phẩm.
Đối với một công ty đang tăng trưởng, điều thú vị nhất là bạn có lựa chọn để trở thành một phần rất quan trọng trong một tập thể gồm rất nhiều người xuất sắc. Base là một trong số ít các startup ở Việt Nam luôn đặt sản phẩm và công nghệ là sự ưu tiên lớn nhất.
BASERs nói về BASE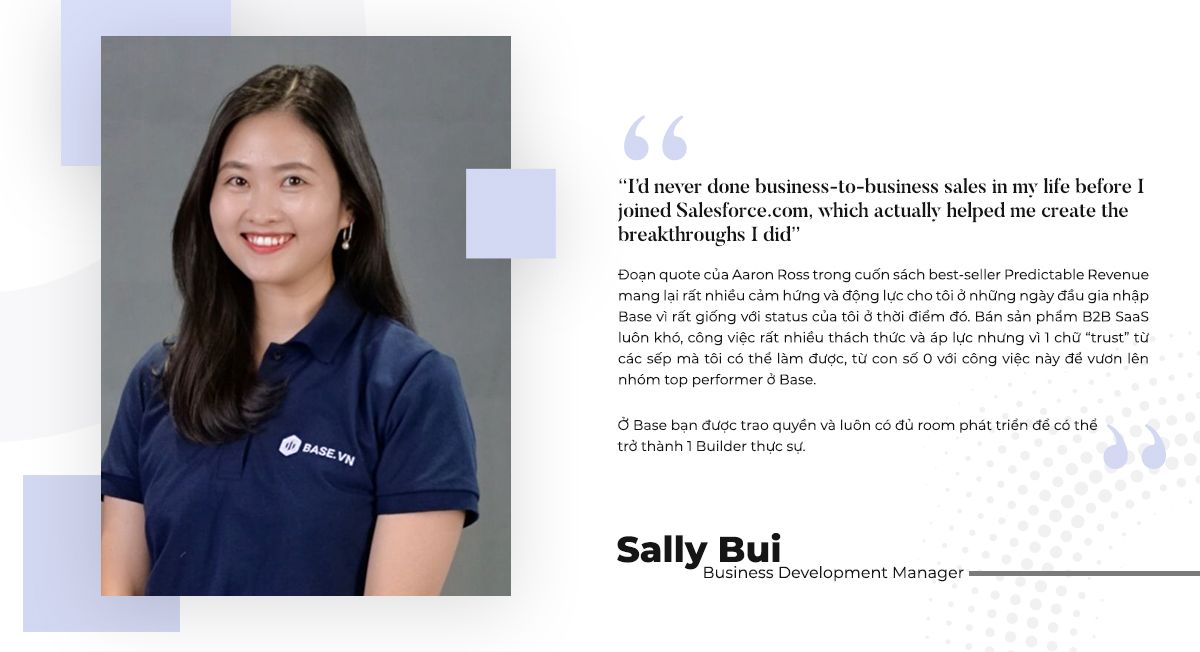 -----------------------------
Thông tin thêm: